The Ellsworth American
1 Printing House Square, Ellsworth, Maine 04605
(207) 667-2576
---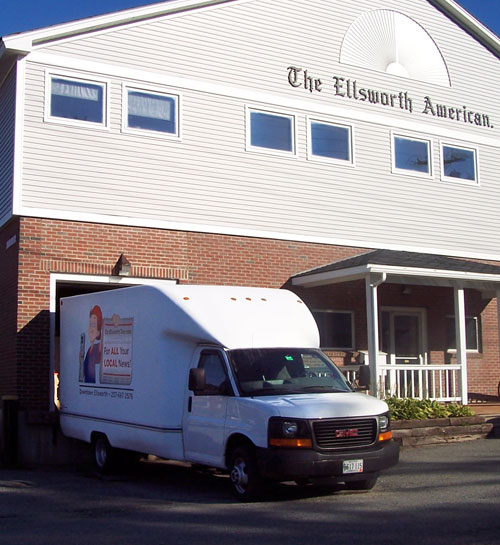 Chris Crockett; Publisher
Chris joined The Ellsworth American in 1995.  He led the digital and sales teams before becoming publisher of The Ellsworth American, Mount Desert Islander, Courier-Gazette, Republican Journal, Camden Herald and The Free Press in 2020. 
---
Cyndi Wood; Managing Editor
Cyndi is managing editor of The Ellsworth American. The Ellsworth native joined the staff of The American in 2007 as a reporter.
---
Steve Fuller; Arts and Special Sections Editor
In addition to editing the Arts & Leisure section, Steve edits special sections including Out & About, Overview, House & Garden and Get Ready for Winter. He lives in Orland.
---
Scott Paida; Copy Editor
A Verona Island resident and devoted jazz fan, Scott is copy editor at The American.
---
Jennifer Osborn; Reporter
667-2576
News Reporter Jennifer Osborn covers news and features on the Blue Hill Peninsula and Deer Isle-Stonington. She welcomes tips and story ideas. Contact Jennifer with your suggestions.
---
Zachary Lanning; Sports Reporter
zlanning@ellsworthamerican.com
Sports reporter Zach Lanning covers Hancock County sports. He comes to Ellsworth by way of New Jersey, which he hopes you don't hold against him.
---
Malachy Flynn ; Reporter
Reporter Malachy Flynn covers news on the Schoodic beat, which includes the towns of Eastbrook, Franklin, Hancock, Sorrento, Sullivan, Trenton, Waltham, and Winter Harbor. He also reports on the town of Tremont on Mount Desert Island.
---
Lizzie Heintz ; Reporter
Lizzie Heintz is the downtown Ellsworth reporter. She is a dual-national American/British citizen, and got her Bachelor of Science in journalism from Emerson College in 2021 with a minor in photography and a multimedia focus. She welcomes tips and suggestions on any Ellsworth stories.
---
Business Operations
---
Kathy Cook; General Manager
Tracy Scheckel; Advertising Manager
Gabe Chaubet; Production Manager
Cathy Marshall; Circulation Manager